Sumptuous Paul Pogba assist for Anthony Martial goal sends Man Utd fans into raptures
Manchester United fans are frothing with excitement after the club's players linked up excellently while on international duty for France.
The two United stars were playing for their country in an international friendly against Italy.
Martial opened the scoring after being put through on goal by Pogba:
Anthony Martial's goal for France vs Italy. Assist by - Paul Pogba pic.twitter.com/iccZUZpDli #MUFC

— Manchester United (@ManUtdUpdates_) September 1, 2016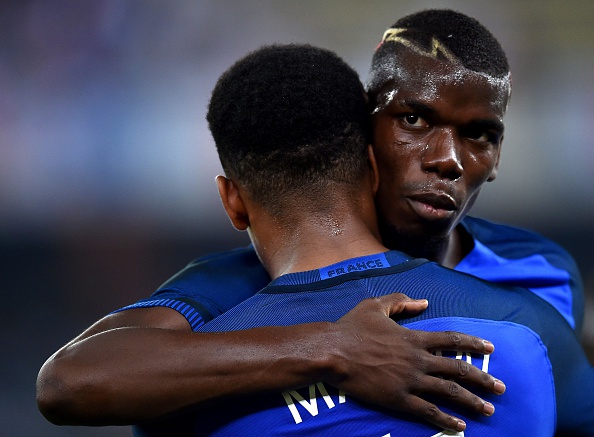 The midfielder's pass did look to have a touch of luck about it:
Think Pogba meant that ball for Martial last night? I'm going to say yes 😁

Good to see AM scoring, too.

— StrettyNews.com (@StrettyNews) September 2, 2016
Though United fans don't seem too bothered about that:
The potential of a French contingent of Schneiderlin, Martial, Pogba and Griezmann at Utd is just 🔥🔥🔥. Would continue the FIFA-esque feel.

— Hashbrown (@hesham786) September 1, 2016
@ManUtdUpdates_ made in Manchester 👍👍

— Stitchy (@spank_man10) September 1, 2016
@ManUtdUpdates_ Beautiful stuff outta the United players

— DaMasterAssassin (@DaMastaAssassin) September 1, 2016
@utdreport pic.twitter.com/M5YIeC6T6P

— mancurian. (@IamLeBzini) September 1, 2016
@utdreport! What an assist!!!!!

— MAESTRO (@kwaku_manutd) September 1, 2016
France went on to win the game 3-1, with Pogba providing a second assist for Les Bleus' third goal.
Just the two assists for Paul Pogba tonight. 🇫🇷 pic.twitter.com/G8V9CAtSNx

— Football__Tweet (@Football__Tweet) September 1, 2016
Night guys.. Martial scores for France and Pogba gets two assists. Manchester United fans right now.... pic.twitter.com/WeKSXUXzsb

— Ask Paddy Power (@AskPaddyPower) September 1, 2016