Revealed: Jose Mourinho's five-point plan to win the Manchester derby
The ingenious plans devised by the Manchester United boss Jose Mourinho to ensure his side scoop three points in this Saturday's clash with Manchester City have been revealed.
Ahead of his both his and Pep Guardiola's first Manchester derby, here are the Portuguese coach's cunning plans for taking an early season lead ahead of City:
1. Deploy Morgan Schneiderlin in midfield
You may have seen this week that United have a plan in place for dealing with City flyer Raheem Sterling. With Aguero, Sterling's attacking output will be heavily counted upon by his manager while Mourinho will be desperate to stop the England winger in his tracks.
To this end, Morgan Schneiderlin is being lined up to play alongside Paul Pogba in Mourinho's double-pivot. The Frenchman's little-known nickname is 'Schneezerlin', owing to the midfielder being a heavy hayfever sufferer. Here is the former Saints player holding one back in France training: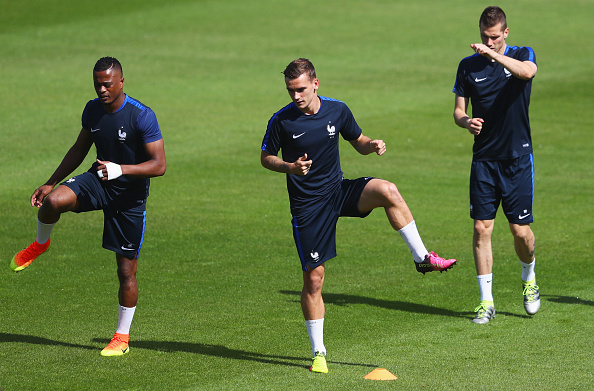 While he can be seen here, mid-sneeze, while challenging for a ball in the air:
With Sterling apparently terrified of even the slightest sneeze, Schneiderlin may be put in place solely to track the attacker and put him off his game.
2. Come out in Chelsea jerseys
Unconventional, certainly, but Mourinho is the mind-game master. What better trick to play on your opponents than have your players line out in the jersey of your previous club?
Win, and United players can tear off the Chelsea shirts to reveal United jerseys in a sort of reverse John Terry-move.
Lose, and United can claim it was actually the Blues who suffered the defeat.
3. Employ Ronaldo as assistant manager
We all saw what Ronnie can do as the right-hand man during Portugal's Euro 2016 triumph.
The United legend, who was previously coached by Mourinho, could return to Old Trafford for one day only as the Portuguese pair plot Pep's downfall.
As he is currently nursing a slight injury, what better way for Ronaldo to pass the time than team up with his countryman to ensure three points are earned by the red side of Manchester.
Ronaldo on the touchline during extra time in the Euro 2016 final
4. Sign up the Euro 2016 moth
The Euro 2016 moth was unsurprisingly snapped up during the summer transfer window after a dazzling performance in the competition's final.
Causing Ronaldo to cry, the suspected French bug was a menace throughout the game as Didier Deschamps employed underhand tactics to try and beat Portugal.
As a veritable 12th man, the moth will literally get in the faces of City players. Ronaldo may have to be convinced on this route of action considering the fiery history between himself and the flying menace.
Can Mourinho convince these foes to work together?
5. Hide in a Man City laundry basket
If none of the above tactics pan out within the first 45 minutes, Mourinho will resort to hopping in a laundry basket to covertly gain access to Guardiola's half-time team talk.
With rain expected in Manchester on Saturday, mollycoddled players will dump their jerseys at half-time in favour of fresh shirts. Little will they know, the United boss will have already settled in under the morning's training bibs in an attempt to outwit fierce rival Guardiola.
Expect the Special One to don a tracksuit at Old Trafford this weekend – he has no intention of ruining a good suit in Fabian Delph's sweat.